Garden Tour 2018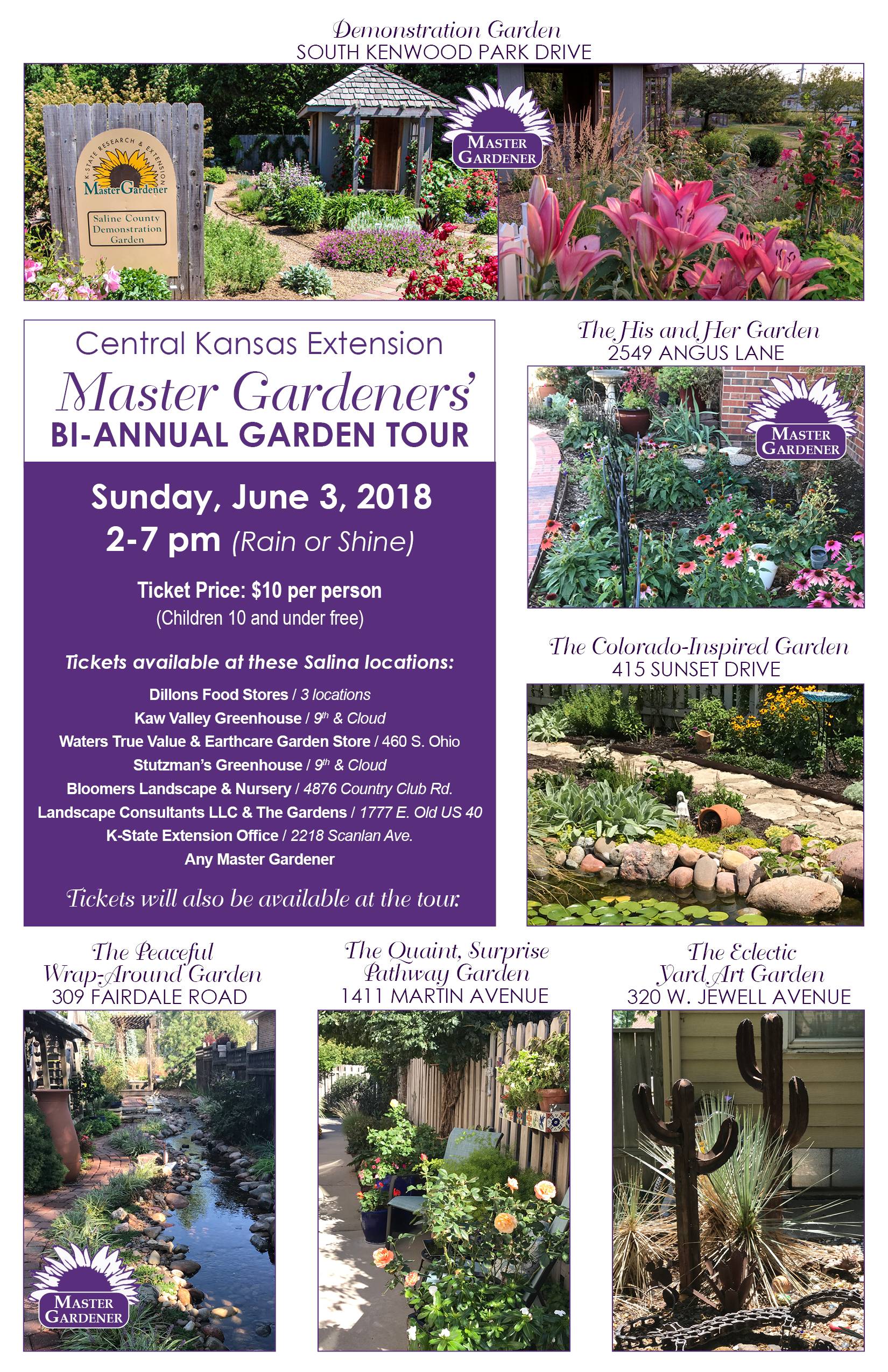 Join the CKD Master Gardeners on Sunday, June 3rd for the 2018 Garden Tour in Salina. The tour will run from 2 pm to 7 pm. This tour will feature 5 Salina gardens plus the Master Gardener Demonstration Garden. Full size poster
The 2018 Garden Tour consists of 5 wonderful private gardens and the Master Gardener Demonstration Garden. Tickets for the tour are $10 and children 10 and under are free. Tickets are available on June 3rd at any of the gardens on the tour or before the tour at Waters True Value & Earthcare Garden Store, Dillons Food Stores, Kaw Valley Greenhouse, Stutzman's Greenhouse, Bloomers Landscape and Nursery, Landscape Consultants LLC & The Gardens, K-State Extension office, or from any Master Gardener.
Here are the 5 private gardens that have graciously allowed us to visit this year.
The Besher Garden (415 Sunset Drive): This Colorado-inspired garden will certainly be inspiring to any gardener. The effective use of a small space is evident and you'll love the use of re-purposed materials, rocks, the sitting area, and the wonderful water feature that all complement this beautifully designed landscape.
The Lawrence Garden (320 W. Jewell Avenue): This eclectic, yard art garden wows with the mix of plants and yard art. This surprising back yard is also home to a large black walnut tree that influences what can and can't be planted. Come see this very unique space that reflects the personality of a hard-working and dedicated gardener.
The Smith Garden (1411 Martin Avenue): We call this garden the 'quaint, surprise pathway garden' and you'll see why. This extremely small space has been thoughtfully and perfectly developed into a beautiful landscape design with a walkway garden, seating area, and unique drip system. The creation of small microclimates aides in the ability to grow the beautiful plants.
The Yenser Garden (309 Fairdale Road): This peaceful wrap-around garden is a sanctuary of outdoor beauty. The Colorado-inspired stream peacefully flows while a beautiful variety of perennials, shrubs, and container gardens greet garden visitors. You'll love the peaceful walk through this inspiring space.
The Davidson Garden (2549 Angus Lane): This 'his and her' garden shows off the personalities and passions of two dedicated gardeners. Come enjoy the wonderful variety of trees, shade and sun gardens, and even an attached greenhouse that helps make this beautiful garden come to life each year.
The Demonstration Garden (across from Kenwood Cove): The Master Gardener Demonstration Garden is a public garden maintained by Master Gardeners and contains a wide variety of plants in each of the 13 themed garden areas which have similar water, light, and maintenance requirements related to each gardening style. Don't miss the chance to walk through this beautiful public garden for ideas and inspiration for your own landscape.
Don't miss the added attractions at each garden. Sunflower State Soap will be at the Besher Garden, the Master Gardeners will be selling some basil and fennel at the Lawrence Garden, Mary Freelove Painting will be at the Smith Garden, Dyck Arboretum (native and adaptable plants for sale) and Three Doors North will be at the Davidson Garden, and Kevin Baxter Fine Art and Findings by Deon will be at the Yenser Garden.
Money raised by this tour goes toward expansion and maintenance of the Master Gardeners Public Demonstration Garden in Salina and other Master Gardener community projects including Children's Gardens, horticulture awards at the Tri-Rivers Fair, Master Gardener outreach events, and more. Thank you for your support.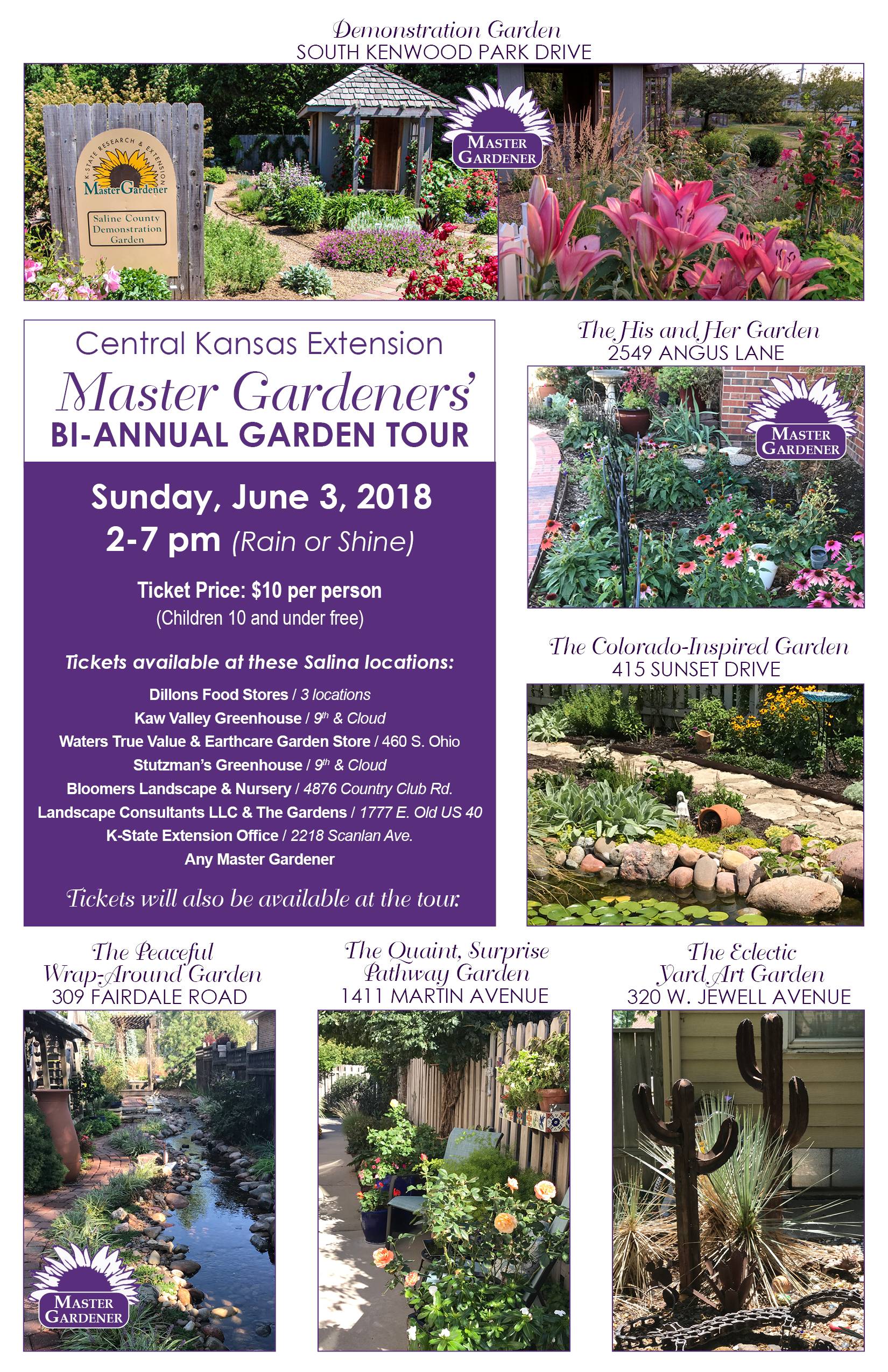 Lawn & Garden
K-State Research and Extension has the resources to help you grow plants in the challenging and diverse Kansas environment.
Do you have a specific problem?
Our office is ready to help. You may bring in soil (for soil testing), turf, tree, weed, and insect samples to our offices for evaluation. Suggested treatments or solutions will be provided by Central Kansas District horticulture agent Jason Graves.
If you bring a plant sample, please bring a representative sample of the plant, preferably with several leaves on a branch or stem, including flowers, fruit, or other distinguishing characteristics. For lawn samples, bring in a 3" diameter core, including roots.
Pictures are very helpful in diagnosing plant problems. Bring pictures in with the sample or email pictures to jlgraves@ksu.edu. Multiple pictures are needed: close ups of the specific problem, a picture of the entire plant and if possible a picture of the environment around the plant itself.
Commonly asked for resources:
Learn More
You may have heard of our Master Gardeners program, Prairie Star flowers, or horticultural research and extension centers in Olathe, Haysville, and Chetopa.
Find out what else you can learn from us by checking out our vast publications library.
Visit the KSU Horticulture Information Center for access to all resources!