Health and Nutrition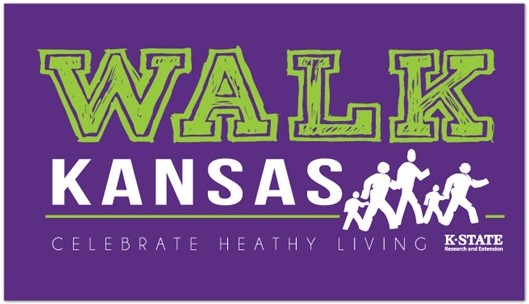 WALK KANSAS - March 15 - May 9, 2020
Cost $10.00 per person. T-Shirts are available for an extra charge.
Registration: The deadline is March 13 at 5:00 p.m. Bring completed team registration/shirt order form, t-shirt signature plus ONE team check payment to the Salina or Minneapolis extension office. Checks are payable to Central Kansas District.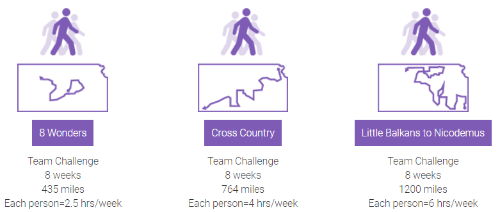 How to Register:
1. Captains gather a team of 4-6 individuals. Captains will register all team members online.
2. Captains will collect information for your team. You can pick up a registration packet from the Salina or Minneapolis extension office or print materials from our website.
You will need:
Names and emails of your team members.
T-shirt color preference and sizes for teammates, if applicable.
One check for your entire team's registration
3. Captains, go to walkkansasonline.org to select your challenge and register your team.
4. Captains will bring/mail one check for the entire team registration plus any shirt orders to the Salina or Minneapolis extension office. You will need to bring with you the shirt signature page, and team registration form for your specific county. If you are not using the online tracking system, also bring each participant's individual registration form.
5. Plan to have fun!
Team Captain Information & Forms (Print 1 per captain)
Team Registration Forms (Print 1 per team)
Ottawa County Ottawa County Shirt Order Information
Saline County Saline County Shirt Order Information
Participant Information & Forms (Print 1 of each per participant)
Individual Participant Registration Form